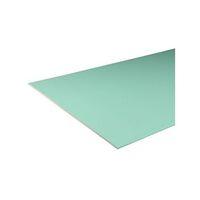 In Stock
19.32€ / sheet
Ex Tax: 16.10€ / sheet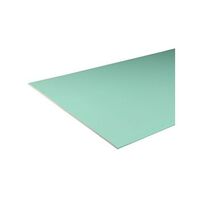 In Stock
16.56€ / m2
Ex Tax: 13.80€ / m2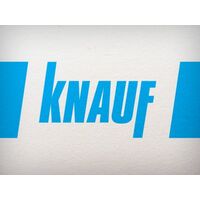 In Stock
13.80€ / sheet
Ex Tax: 11.50€ / sheet
Waterproof Gypsum Board
Moisture-resistant gypsum board is a construction material that has increased resistance to humid conditions. It is used in the interior finishing of spaces where there is a higher level of humidity, such as bathrooms, kitchens, and laundry rooms. Moisture-resistant gypsum board has several key characteristics:
Water Resistance

It typically has a water-resistant surface, allowing it to perform reliably even in high humidity conditions. This is important to prevent damage to the gypsum board from moisture exposure.

Resistance to Mold and Mildew

Moisture-resistant gypsum board is also designed to prevent the development of mold and mildew on its surface, making it an ideal choice for bathrooms and other humid areas.

Ease of Handling

It can be processed and installed just as easily as regular gypsum board.

Sizes and Types

Moisture-resistant gypsum board is available in various sizes and types, including sheets of different dimensions and thicknesses.

Applications

It can be used for walls, ceilings, and even various decorative elements in humid areas.
It's important to note that moisture-resistant gypsum board is not suitable for use in extremely wet conditions where a specialized waterproof material is required.
Show more
Collapse