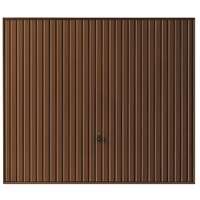 Pre-Order
Product Category - Garage Doors
Garage doors are an essential part of any garage and play a significant role in ensuring the safety and convenience of storing your car or various items. We offer a wide range of garage doors that combine reliability, style, and functionality.
Brands of Garage Doors:
We collaborate with well-known manufacturers of garage doors, such as Hormann, Chamberlain, Clopay, and many others. These brands are renowned for their innovative solutions, high quality, and reliability, ensuring a long service life and the safety of your garage doors.
Types of Garage Doors:
Our range includes various types of garage doors, including swing doors, roll-up doors, sectional doors, and overhead door systems. Regardless of your preference and available space, you will find the right type of door that is perfect for your garage.
Characteristics of Garage Doors:
Our garage doors have various characteristics, including the types of materials they are made from, the level of insulation, control mechanisms, and the degree of safety. You can choose garage doors that meet your needs, climate conditions, and the necessary level of security for your garage.
Advantages of Garage Doors:
Safety: Garage doors ensure the safe storage of your car and belongings.
Convenience: The use of automatic control mechanisms provides the convenience of opening and closing the doors.
Insulation: Modern garage doors have a high level of insulation, helping to maintain temperature conditions inside the garage.
Long Service Life: High-quality materials and constructions guarantee a long service life for garage doors.
Detailed Description:
Garage doors are not only a functional element of your garage but also an important part of the exterior of your home. We offer garage doors that combine safety, comfort, and style. Regardless of your needs, you will find garage doors from us that complement your home perfectly and provide ease of use.
Show more
Collapse